Downspout
Boots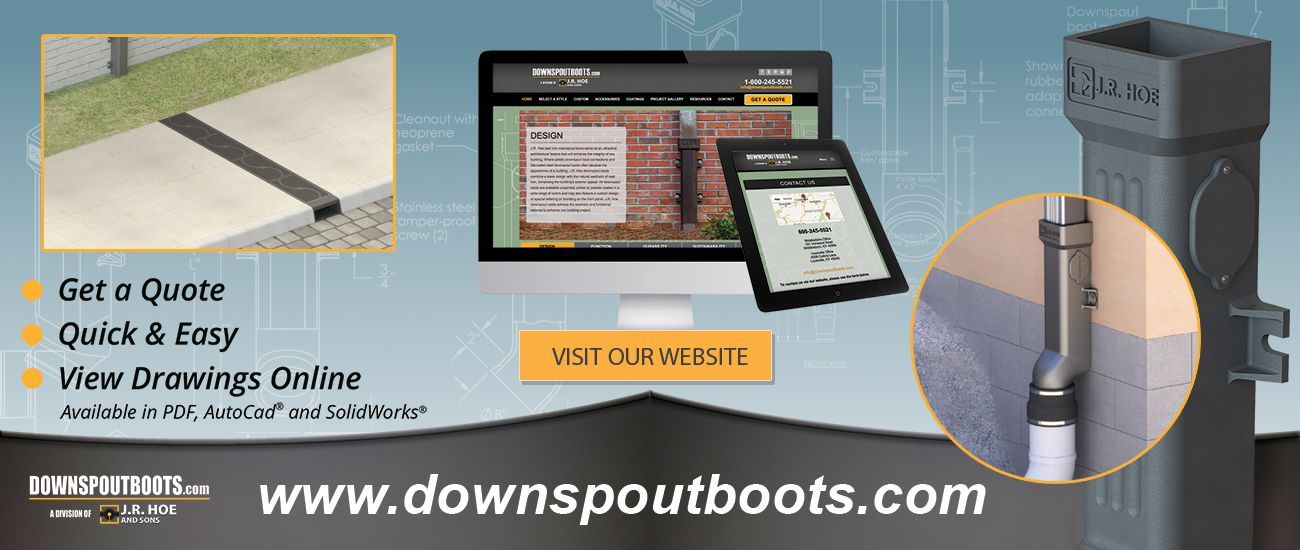 Gray iron downspout boots are used as a transition piece for connecting sheet metal exposed downspouts to underground cast soil piping in low areas that are subjected to vehicular traffic , lawn equipment and in public areas such as hospitals or schools. Solid cast iron downspout boots ensure that the bottom part of the exposed metal downspout is protected from damage. Downspout boots also enhance the building appearance.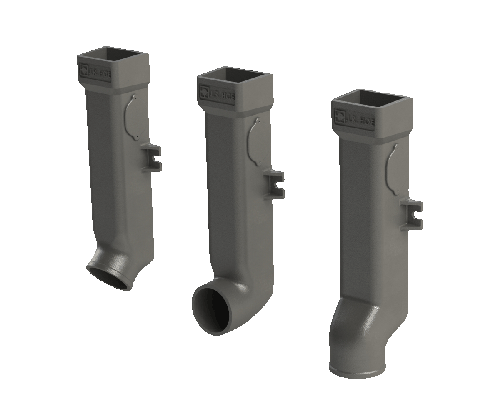 There are different types of cast iron downspout boots: Angular, Offset and Ninety are some examples. Downspout boots can be connected to trench systems, connected below grade to a horizontal or vertical pipe, or installed with a splash block.
A rectangular downspout to a round discharge outlet is designed to empty into a soil pipe. This downspout boot is designed with an offset from the building to allow the pipe hub to fit around the downspout boot. They may be used with PVC pipe with a no-hub coupling (furnished by others). Most downspout boots have fastening lug slots to fasten to the building.
When ordering downspout boots, you will need to know the inside top bell dimension, length and bottom outside spigot dimension. Some downspout boots are available with a cleanout plug, with a powdercoat finish or with one coat of primer.
Mounted Downspout Boots
Durability - Cast iron downspout boots are fully resistant to damage by impact and general wear and tear. While plastic and fabricated sheet metal downspout boots are easily damaged, broken or scarred, cast iron downspout boots will last as long as the building and maintain their original appearance.
Sustainability – JR Hoe Downspout Boots are cast from recycled materials in Kentucky, USA. They qualify for LEED Credits 4.1/4.2 Recycled Content and LEED Credits 5.1/5.2 Regional Materials.
Design - Cast iron downspout boots offer a natural look that enhances the aesthetic integrity of the building, whereas the use of plastic and fabricated sheet metal material devalues a building's exterior appeal. All downspout boots are available painted or powder coated in a wide range of colors and may also feature a custom design or special lettering on the front panel.
Function - An essential element of a downspout boot's design is consistent flow capacity from the top bell through the outlet. J.R. Hoe downspout boots' contoured design ensures positive flow from the top bell into the soil pipe. Sharp angles inherent in fabricated downspout boots lead to flow inefficiencies and clogging.
Price and Lead Time - J.R. Hoe downspout boots are supplied at the most competitive pricing and quickest lead times in the market. Contact us below to request a quote!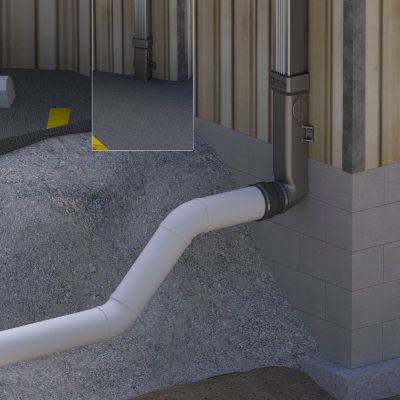 90 Degree Downspout Boot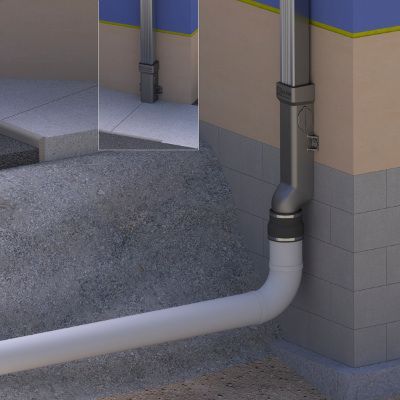 Offset Downspout Boot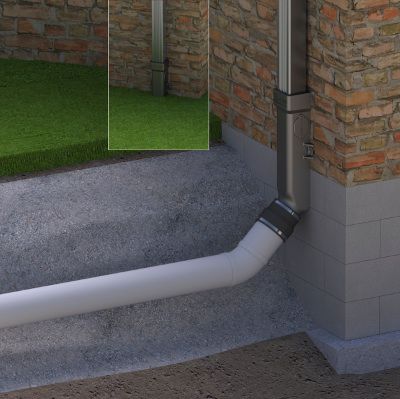 Angular Downspout Boot
Customization Options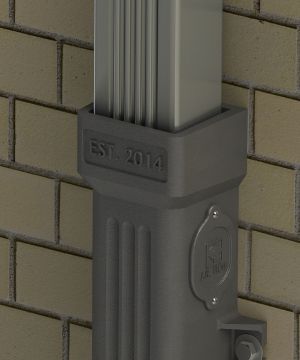 Add character and class to your building project with top bell and front panel customization options. JR Hoe uses the latest technology in parametric modeling to implement logos, branding and decorative artwork into the downspout boot design. A 3D-modeled rendering can be provided for approval of custom designs based on submitted artwork or simply a detailed description of the desired artwork. Traditional custom features are also offered by JR Hoe upon request such as the fluted front panel and/or the top bell year stamp.