AISC Certified Fabricator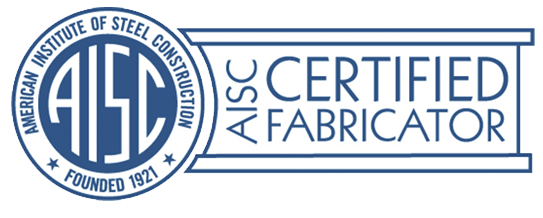 We are a skilled fabricator of structural and miscellaneous steel, and are one of the only steel fabrication facilities in the Kentucky region that has earned quality certification from the American Institute of Steel Construction (AISC). The AISC sets the quality standard for the structural United States steel industry, and companies that are AISC Certified have been through a rigorous initial evaluation and are subject to annual reviews by an independent auditing company.
AISC utilizes Quality Management Company, LLC. to confirm that companies have the personnel, knowledge, organization, equipment, experience, capability, procedures and commitment to produce the required quality of work for each given certification category. AISC Certification is a difficult and highly regarded quality standard to earn and a demanding one to maintain. Here at J.R. Hoe we have been AISC certified for 6 years and counting.
We hold the AISC Certification in three categories: STD Structural, Simple Bridge, and Highway/Bridge Components. With our expertise in these areas as well as miscellaneous fabrications from steel, stainless steel, and aluminum, J.R. Hoe is capable of offering the full package for virtually any building project. Our fabrication division has supplied structural and miscellaneous steel to major infrastructure products throughout the Eastern U.S.
For more information or to request a quote, please contact us.