AISC Certified Fabricator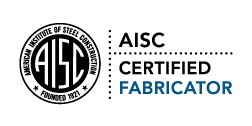 AISC utilizes Quality Management Company, LLC to confirm that fabrication companies have the personnel, knowledge, organization, experience, capabilities, procedures and commitment to qualify for each given certification category. AISC Certification is a highly regarded quality standard to earn and maintain, and is a pre-requisite for participation in most major building projects today.
JR HOE has been a Certified AISC fabricator for over 10 years, and currently holds certifications in three (3) distinct categories:
Building Fabricator
Fabricator – Simple
Metal Components Manufacturer
With an impressive background in both structural and miscellaneous fabrication, and extensive experience with steel, stainless steel, and aluminum, JR HOE has the capability to offer complete metals packages for most any major project. The JR HOE fabrication division has successfully supplied many infrastructure projects throughout the Eastern U.S. over the last several decades.
For more information or to request a quote, please contact us.