Iron
castings
J.R. HOE & Sons produces quality gray and ductile iron castings in a diverse range of sizes, weights, and configurations. Poured casting weights range from 1 to 2400 pounds. Production sizes range from 18" to 48" square in semi-automated molding up to 8ft. square with custom floor molds. In offering full capability in-house coremaking, castings of unique design and configuration are produced. The HOE Flexible Manufacturing system allows for short run orders to be blended with large volume production runs to meet the customer demand.
Consistent Quality – Always
Whether the casting is small or large or whether the order quantity is one or one thousand, QUALITY always come first at HOE. An ISO – compatible quality management system is utilized to see that uniformity is maintained from incoming raw materials through the melt/mold/finishing process until final shipment. Castings are closely inspected post-production and again before shipment to guarantee quality with every load. HOE is a proud supplier of many manufacturers that incorporate castings into their machinery equipment which is then shipped around the globe.
Among industries served by J.R. HOE castings are:
Pump and Valve
Aluminum Processing
Agricultural
Material Handling
Machinery Parts
Railroad
Hydraulic
Wood Processing/Furniture
Mining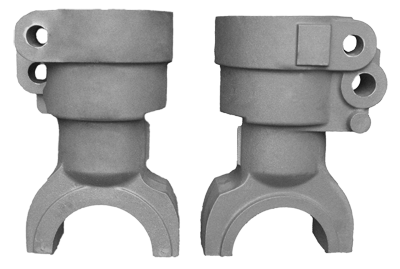 The Machined Edge
J.R. HOE offers an extensive range of manual and CNC machining to turn their quality castings into finished parts. With its in-house foundry casting facility coupled with complete machining capabilities, HOE offers its customers "The Single Source Advantage" for their industrial parts. For many customers, HOE inventories repeat order castings so that customers may order from a "pull system" for shorter lead times. J.R. HOE and Sons works hard to give their customers "the competitive edge." Do you have a casting, or machined part, that you would like to have quoted? castings.machined@jrhoe.com